Highlights Lifestyle Brand Elements, Helpful Navigation to Solve Common Automotive Problems….
Elevated lifestyle brand visuals, more intuitive navigation, ambassador content and a 'problem and solution' format that makes it easier than ever to find the right solutions.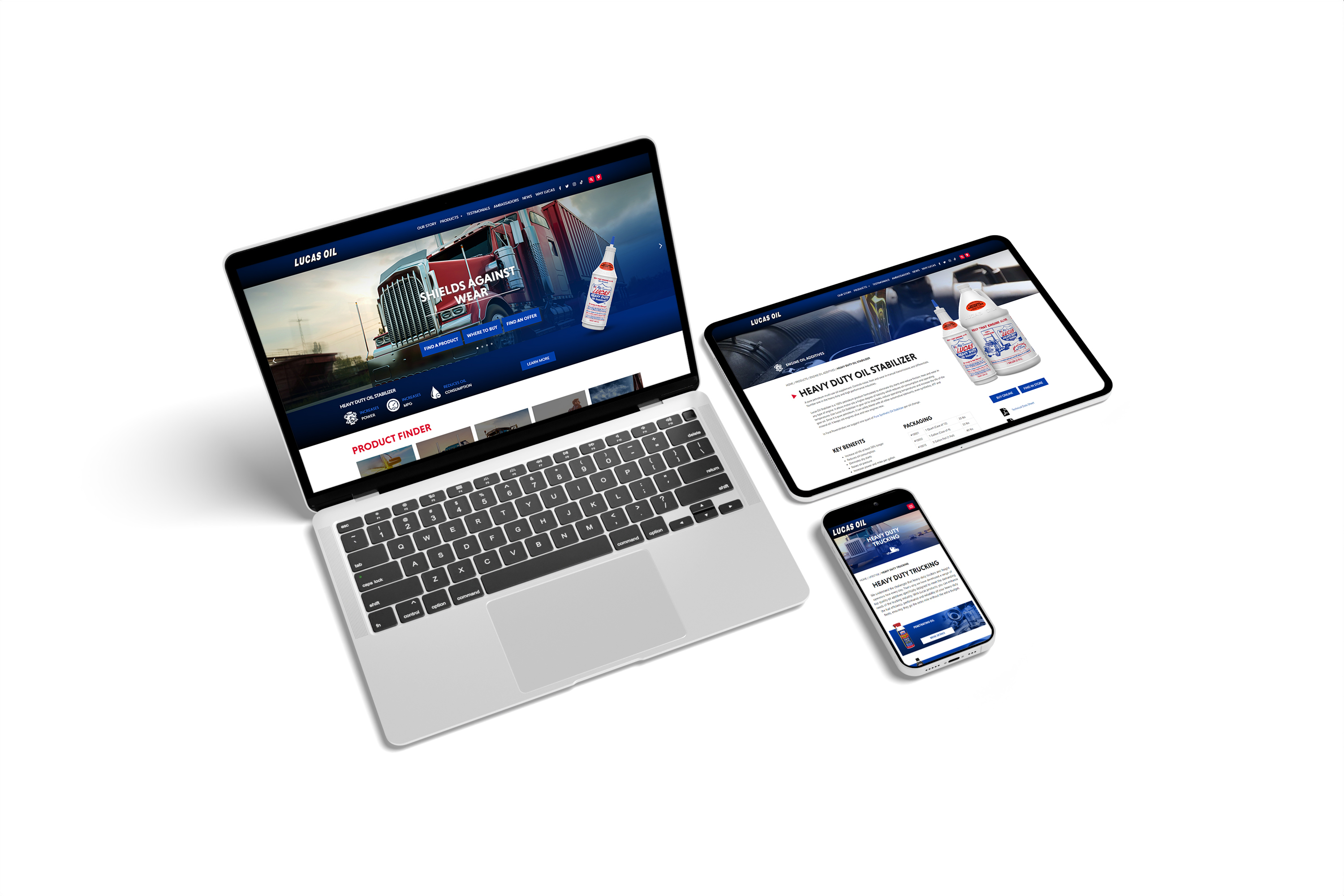 Lucas Oil Products, the world leader and distributor of high-performance automotive additives and lubricants, is announcing the launch of its all-new website – featuring an elevated brand experience, visual lifestyle elements, more intuitive navigation and engaging product discovery. Everyone ranging from casual vehicle owners to hardcore automotive enthusiasts will be able to find the right products that fit their lifestyle, extend the life of their vehicle and solve common problems. 
New intuitive categories, customer testimonials and an all-new Lucas Oil Ambassador section helps highlight the brand's commitment to excellence as a pioneer in the additive industry. The site also includes:
New lifestyle brand elements and content

Retail store finder

Links to online retailers

Mobile and Tablet Friendly Experience

Exclusive Lucas Oil Brand Ambassador features

Lucas Oil newsroom

Spotlight on Lucas Oil Philanthropy

And much more 
"As the brand positions itself for future growth, we've been engaged in intensive efforts to kickstart a gradual evolution in communicating stronger brand and product messaging – and the new LucasOil.com is a first reflection of our team's work," said Melissa Wonser, Vice President of Marketing for Lucas Oil. "From an enhanced visual look and feel from a lifestyle brand perspective, exciting Lucas Oil ambassador content to easier navigation and focus on how our hard-working, problem-solving products make everyday life easier for our customers, we're making the world of Lucas more accessible and more engaging online for both our core customer base, as well as new audiences into the future. This is only the start of what will be an ever-evolving site, with new features and content that will be introduced over time."   
Lucas Oil's entire product lineup is available on the new website.
About Lucas Oil
Founded in 1989 by Forrest and Charlotte Lucas, Lucas Oil Products was created with the simple philosophy of producing the best lubricants and additives available anywhere. Lucas Oil offers the most diversified range of innovative engine oil, gear oil and additive products refined by years of specialized research, development and testing. The company's high performance engine oils and gear oils are widely recognized as best-in-class in the automotive, powersports, marine, industrial, outdoor, and motorsports marketplaces. In total, Lucas Oil boasts more than 300 premium products, representing the largest variety of shelf products of any oil company in the United States with a distribution network across 48 different countries. 
Lucas Oil's commitment to motorsports includes long standing support for high profile regional and national racing series, and the distribution of exclusive motorsports content from across the globe via MAVTV, a Lucas Oil owned and operated television network. The company also serves as the exclusive oil and lubricant partner of Monster Jam®, The Dallas Cowboys, the Indianapolis Colts and Lucas Oil Stadium.
For more information please visit. www.LucasOil.com.